Traralgon Swimming Club is widely regarded as one of the most competitive and successful sports clubs in regional Victoria.
Yet one of the club's most respected young leaders, vice-captain and assistant coach Audrey Lee, is driven by neither of those particular factors.
The 18-year-old makes no secret that her ongoing participation and enduring passion for the sport and her club is mostly derived from the fun and camaraderie of spending time with her teammates.
"Swimming is more of a social thing for me," Audrey said.
"I was never one of those national time swimmers. I would just go because I loved it… Especially those [training] sessions where everyone is in a great mood and the coach sets us challenges and we all get together as a team and we're just yelling on pool deck and encouraging one another.
"It's not really an individual sport to me it's more about the team atmosphere."
It's not that Audrey isn't a competitor, it's that her fire comes from a different source.
Audrey has been a Traralgon Swimming Club member for more than 10 years and recalls her first foray into racing with a degree of amusement.
"I was just in the junior development squad and it was a shocking race. I remember it was freestyle and I was flipping over and doing backstroke," she said.
It was a fitting starting point for a journey that has been largely defined by the joy of participating.
So who better to play a part in developing future swimmers than someone with such unbridled passion for the sport?
"They are young people and we want them to love the sport not to be pressured into being super awesome athletes straight away."
Since commencing VCE studies, Audrey has shifted her focus more towards coaching, starting on pool deck with the club's junior swimmers – usually aged eight to 14 years – and teaching in the Ford Swim Centre's learn to swim program as she obtained her qualifications.
More recently she has spent more time in the strength and conditioning space, which aligns well with her exercise and sport science studies at Federation University.
"It's awesome I got to stay on pool deck but I just sort of felt that I wasn't the national swimmer so I wasn't used to all the technical things that training actually does offer," she said.
"I'm better with the little kids and getting them running around and having a good time with them.
"They learn the fundamentals first and then as they move on and progress through the squad, that's when the kids sit down with the coaches and talk to them about what they want to achieve and what they want to get out of swimming."
As well as her positive attitude, Audrey is admired for her commitment and contribution to the club and her voice brings an important dynamic and perspective to the coaching team, which helps ensure the club continues to cater for a wide range of participants.
She felt fortunate to have access to, and the opportunity to work with, top quality mentors, including decorated head coach Brian Ford and highly-regarded performance coach Cameron Juha, with whom she completed her experience hours.
"I see myself as a completely different coach than Brian and Cam," Audrey said.
"They've got a really heavy drive to help older kids and progress them to the next level, where as I am sort of coming from a non-competitive, sport-loving side and just want them to be there and have a good time.
"I love working with all the other coaches because I get to see all their different styles of coaching and to help build my own."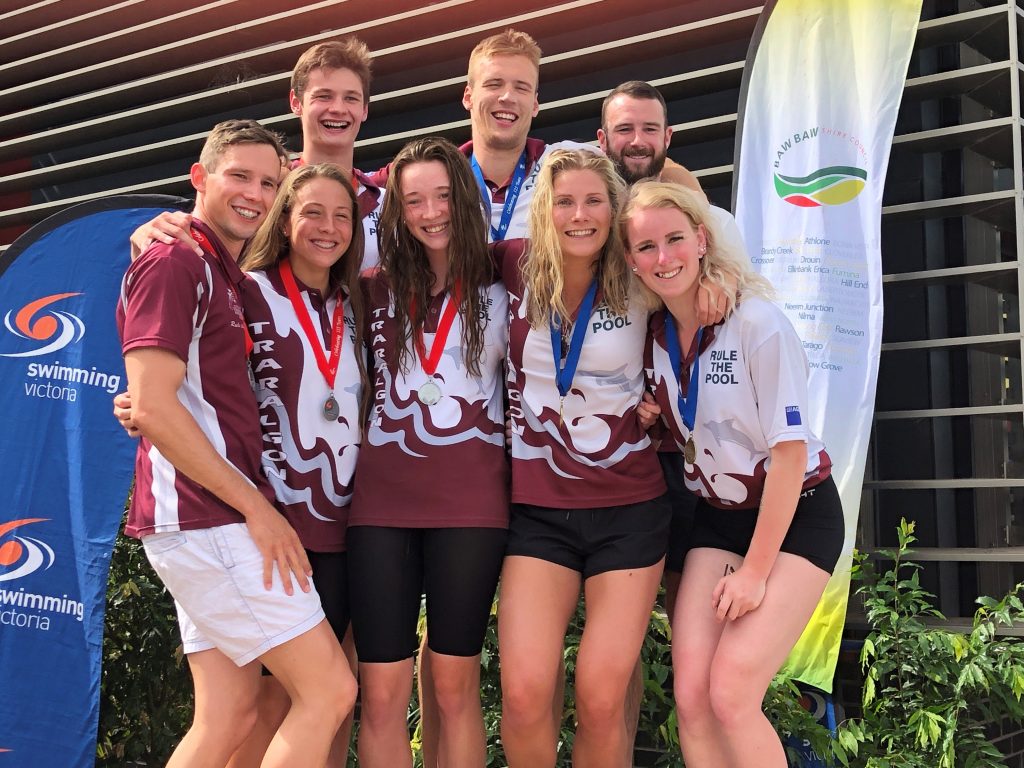 This year has thrown up a very different challenge, with pool access considerably limited due to COVID-19.
It has only reinforced the need to provide a welcoming, inclusive and enjoyable environment for members as the club has sought to remain active in spite of the circumstances.
"We've had a new wave of kids come through [recently] and obviously we [haven't been able to] get them in the pool much but they have been doing a few online things with us and we're just getting them fit and loving exercise and hopefully they'll transfer that into the pool," Audrey said.
"It's not hard and fast straight away. They are young people and we want them to love the sport not to be pressured into being super awesome athletes."
As for her own time in the water, Audrey still suits up for swimming meets and is part of the club's 'ultra-speed group' for swimmers aged 18 years and up, but training brings her the most joy, even if many of the people she used to swim with have drifted away from the sport.
"I still find a way to connect with people whether they are younger than me. I love being around that really encouraging team environment," she said.
"I love it when the coaches put us into teams and they say the person who does the biggest [personal best] can win for the team. That's when everyone gets really keen and the noise around the pool gets really addictive.
"It's just the best feeling ever."
The Latrobe Health Assembly's Increasing Access to Sport Project aims to identify and address barriers to youth sports participation in the Latrobe Valley. For more information, email GippSport Community Planning Officer Damen Francis at damen@gippsport.com.au
Related posts